A couple days late and a couple cans short of a six-pack, but we have TONS of fun stuff to talk about for all you LSV fans out there, this week. First off we finish up talking about Cube as LSV posted a video or two since we last chatted about how awesome it is to watch him play Holiday Cube. We then get into it about LSV's podcasting of late, including a 5h16m Origins spoiler review and more–there's so much LSV content these days! Richard reveals a fun sign-off LSV at the end of one podcast recently that you may have missed, as John did. Then, finally, we get to talk about the hot-off-the-presses new card spoiled from "Battle for Zendikar"! After various off-topic rants, John ends the show with a big, long rant on Magic Online's cryptic, consumer-repellent payout changes that we also don't understand at all–which is kind of the point.
Podcast: Play in new window | Download
Subscribe: iTunes | Android | RSS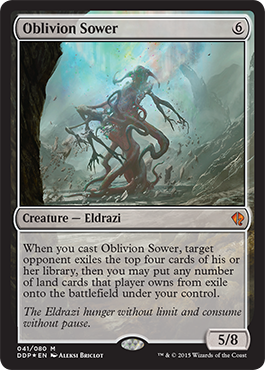 A card so new you cannot have an opinion about it, so we provide one for you.
Text Summary:
So LSV posted a 2nd Holiday Cube draft video–we were so excited we actually made an emergency update to this very blog. [Editor's Note: LSV posted yet another excellent Cube video as we were recording this show, you can check it out here: http://www.channelfireball.com/videos/channel-lsv-holiday-cube-draft-3-2/] Some notable quotes from this post include "Tangle Wire so, so bad–ppl shouldn't be taking it" which is a nice little conversation starter, itself. Not that either of us is likely to disagree too strongly with The Vargas, even if Richard has a soft spot for the card in Cube. LSV even later admits his 'Stax' deck would have wanted it. Our man really does have a prejudice against short term gain. Another fun thing is how much Luis loves Goblin Welder–I swear he's taken it every time it's in a Cube pack–this time he wasn't even playing red until the Welder. And of course it's justified when he later has a Phyrexian Metamorph come into play copying the Welder and goes nuts. The big takeaway, though, is that Courser of Kruphix, Fastbond, Crucible of Worlds, and Strip Mine all together lead to some insanely entertaining plays–Elesh V shows us how to both destroy every land on your opponent's side of the table, and also make infinite mana by Strip Mining your own lands and playing them again. What's that, cubers, about Fastbond being "uncube-able"?
What else happened THIS WEEK IN LSV? In addition to cube drafting there was quite a bit of podcasting. How much content can one man really produce? It's impressive, and John and Richard debate the merits of taking it all in. Well, there's no debate, Richard's just a compulsive fanboy–and it's all to your benefit as he discusses LSV's sweet signoff at the end of one podcast that you all may have missed: the "Top 6 Cards LSV has gotten wrong in set reviews past." We'll keep it a secret so you have to go listen, but it's an interesting list and includes such hits as Pack Rat and Ugin, the Spirit Dragon. Another comment about LSV's podcasting regards his co-host in this endeavor, friend of the show Marshall Sutcliffe. Now, Marshall's great, but sometimes he disagrees with LSV's card evaluation and, well, you can all guess where we land when it comes to picking sides there. Chandra's Ignition was a glaring example of this in a recent show, and we do an impression of how that debate SHOULD have gone down between the two.
Finally we get to talk about Oblivion Sower, which was spoiled in the packaging for the next Duel Decks: Zendikar vs Eldrazi on the Wizards site. This guy (picture above) is pretty intriguing and since discussing it on the podcast we're even more convinced that some form of this ability will be this set's Eldrazi "Annihilator" mechanic. Which could mean this one is slightly worse as you've already exiled a bunch of lands, or slightly better if the other versions of the mechanic don't specifically target lands. It all remains to be seen but is quite exciting regardless. Another exciting card is Starfield of Nyx from Origins that we did not get to talk about earlier that has already made it into some cool Enchantress decks.
To close out the show, John gets on his Magic Online-inspired soapbox to rant about the changes to MTGO's payout system for tournaments. We try to sum them up for you before discussing them but the reality is they're just too confusing for us, and that's the entire problem. There needs to be something simpler than all these alternate entry fees, and X boosters + X tickets mixed payouts. It can't be easy handling the strange online economy that is MTG: Online but it's been many years now and it's not getting any simpler. Richard gives them the benefit of the doubt that they're trying to improve things and likes that Cube winnings are no longer meaningless, but John has a great deal more value tied up in his online account, so listen for some entertainingly angry ranting.
Click here to listen to this episode of LSV Fan Club.
Show Twitter: http://www.twitter.com/lsvfanclub/
John's twitter: http://www.twitter.com/chocolovebox
Richard's twitter: http://www.twitter.com/incabaltherapy/

LSV's Holiday Cube Drafts:
http://www.channelfireball.com/videos/channel-lsv-holiday-cube-draft-7/
http://www.channelfireball.com/videos/channel-lsv-holiday-cube-draft-3-2/
Oblivion Sower spoiler: http://magic.wizards.com/en/articles/archive/arcana/duel-decks-zendikar-vs-eldrazi-packaging-2015-07-29
The Starfield of Nyx deck: http://www.mtggoldfish.com/articles/budget-magic-55-20-tix-standard-starfield-enchantress
Magic Online's post about the tournament payout changes: http://magic.wizards.com/en/MTGO/articles/archive/magic-online/august-2015-constructed-event-changes-2015-07-20
Podcast: Play in new window | Download